Magic begins here.
Serving Central West Virginia events and celebrations
We know that birthdays are a big deal, so let us help! Little Glass Slipper Princess Parties offers a magical and memorable opportunity to bring a beloved character to your child's birthday party or event. A princess of your choosing will sing, dance, and lead activities such as games or crafts with party guests. This personal visit will be one to remember!

Based in Weston, West Virginia, our characters are promised to look and act their role. For an authentic experience, performers stay in character the entire duration of the party, and are sure to give your child and guests an experience that they will cherish for years to come.
Proudly serving Princess Parties in : Weston, Jane Lew, Bridgeport, Clarksburg, Grafton, Fairmont, Morgantown, Buckhannon, French Creek, Elkins, Beverly, Roanoke, Glenville, Flatwoods, Sutton, and Ireland.
Ice Queen
Also available in Spring Fever dress or Sequel Adventure outfit!
Mermaid Princess
Available in walking fin and seashells upon request!
Ice Sister
Also available in Winter Travel or Sequel Adventure outfit!
Coming Soon...
Our fist male character: Prince Beast!
Our first MIRACULOUS superhero!
Our first non-fairy tale character: Fashion Doll!
Our first character with an accent: Brave Princess!
Have a special request for a character we do not offer? Contact us and we will see what kind of magic we can make!
*Each performer pictured has limited availability. While we ensure quality entertainment, you may not receive the performer in the character photo*
Party Packages
Each package is made to accommodate 15 children. For each guest over this limit, there will be a $5 charge per child.
Package #1
Royal Greetings
$100
· 30 minutes with one character
· Princess will do a meet and greet with guests, pose for pictures, and engage in free play with children.
· You can schedule your character visit before cake, so the birthday child can have their special guest with them as they make their birthday wish.
Package #2
Fun for All
$175
MOST POPULAR
· 1 hour with your choice of Princess
A themed necklace gift for the birthday child
· Princess will do a meet and greet with all guests and pose for pictures.
· Princess will lead themed games and craft time.
Little Glass Slipper will provide all necessary game items and craft supplies, so you can sit back and enjoy!
Package #3
Royal Affair
$225
BEST VALUE
· 90 minutes with your choice of character
A themed necklace gift for the birthday child
· Princess will do a meet and greet with all of the guests and pose for pictures.
· Princess will lead a combination of activities of your choice: free play, dancing, story time, themed games, and craft project.
· Princess will stay with the birthday child and guests during cake to answer any questions they have about princess life.
Add an extra character to any package for $100
Need a different kind of package for a community or corporate event?
We gladly work with Small Businesses and Non Profit Organizations - contact us for our special rates!
Travel Costs
A travel fee of $1 per mile from our home base address in Weston, West Virginia will apply to addresses over 20 miles away.

We travel up to a 100 mile radius of Weston, WV. For locations further than this, special travel rates will be applied.
Mia Bella Photography Partnership
We are so excited to have partnered with the talented fine arts photographer of Mia Bella Photography, Shelly Rasmussen! Choose between 2 exciting options to have your magical moments captured by a true artist.
"Once Upon a Time" Portrait Session
A relaxed 1 hour session that includes a $250 credit toward high quality prints, canvases, and albums. 30 minutes of the session is spent focusing just on the little princess, the second half of the hour the real life princess makes her appearance to join your little one.
Birthday Party Photography
The photographer will capture candid photos of the birthday child and their guests, detailed shots of decorations and birthday cake, and photos with the princess. $200 for the first hour, $100 each additional hour.
Games and Activities
When you choose a Princess to attend your party, they bring themed activities along with them! So sit back and relax as the Princess entertains your party guests!
The following suggestions are ideal for our 60 - 90 minute parties.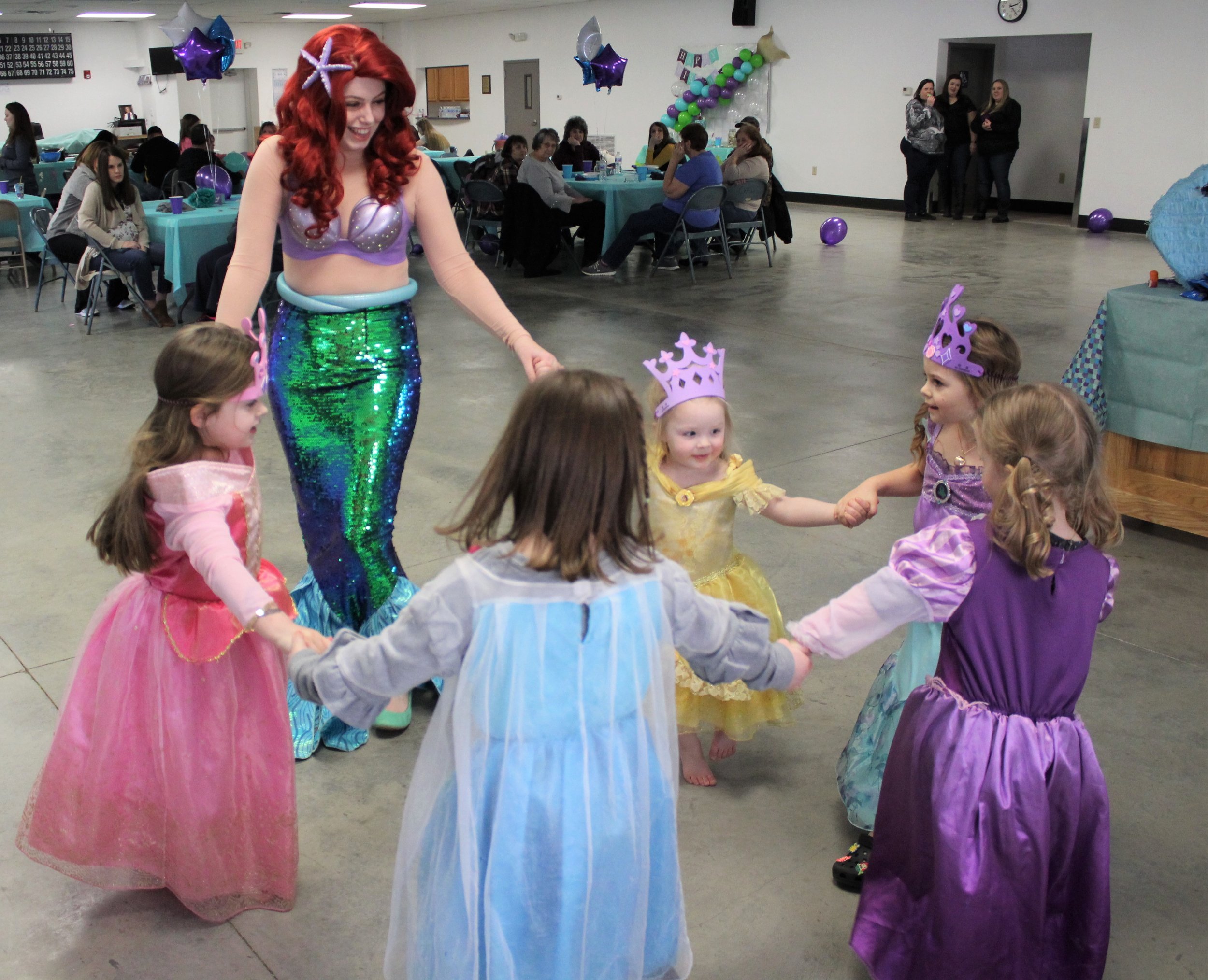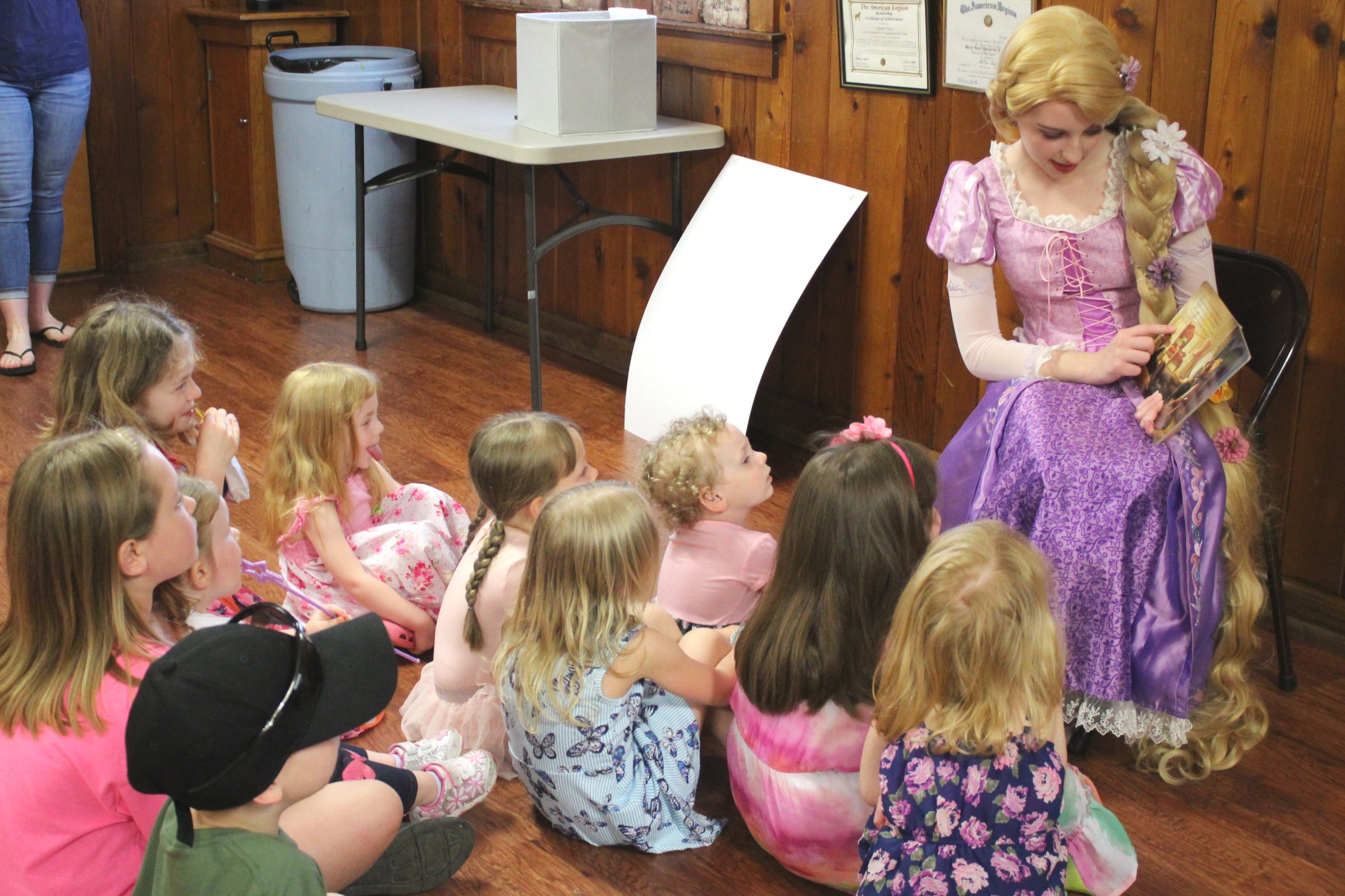 Select your activities from the lists below, or leave it to us to bring the fun!
Games
Pin the Nose on the Snowman/Ruffian
Snow Ball Toss
Book Balancing Race
Dinglehopper/Flower Scavenger Hunt
Limbo
Musical Statues
Musical Chairs
Princess May I
Princess Says
Hot Potato (Snowman, Chameleon, Piglet, or Beast)
Find the Friend (Wand, Snowman, Chameleon, Piglet, or Beast)
Let's Get Tangled: A Streamer Wrapping Relay
Cotton Ball Flower/Snowball Scoop
Sleeping Beauties/Fairies
Obstacle Course
Coconut bowling
Crafts
Bejewel a Magic Mirror
Create a Sea Anemone
Decorate a Lantern
Design a Crown
Glass Slipper Mosaic
Color a Character
DIY Pixie Dust
Make an Islander Fish Hook
Other Activities
Bubble Machine
Story Time
Parachute (best for large open spaces)
Ribbon Dancing
Hula Dancing
Ballroom Dancing
Booking Instructions
Fill out the Booking Form below to inquire about the availability of your party date and which character(s) and package you'd like.

When we have confirmed your date and character, a deposit that is half of the total cost is paid. You may do this through online invoice via credit card or PayPal.

Once your deposit is paid, your event is officially booked! This is a non refundable deposit and if details of your event change, we will do our best to make appropriate accommodations, but cannot guarantee full date or character availability due to prior bookings.

The remaining half of the balance is due the day before the party by online invoice.
To ensure availability, we prefer at least a 4 week notice of the event. If your event is closer than 2 weeks, we will work to accommodate your plans, but cannot guarantee the availability of your character.
For any additional questions, feel free to call us at (304) 376-2897 or send us a message on our Facebook page.
We look forward to hearing from you!
*** It is not the intention of Little Glass Slipper to violate any copyright laws. Our characters are not name brand copyrighted characters. Our characters are inspired from popular storybook characters. We can only accept bookings from individuals who are aware that we do not represent any licensed characters. Thank you for your understanding.
Frequently Asked Questions
Q: When should I book my party?
A: As soon as you know your date and location! We recommend booking at least 4-6 weeks in advance to ensure our availability. All parties are booked on a first come first serve basis, though sometimes we are able to accommodate last minute requests. We will often have parties booked up to several months in advance, so don't hesitate to fill out our booking form!
Q: How far do you travel? Is there a travel fee?
A: We travel up to 100 miles from our home base of Weston, WV. For parties 20-60 miles away from Weston, we charge $1 per mile. Mileage is calculated using Google Maps from the Little Glass Slipper home office in Weston, WV. For example, a party in Elkins WV is 43 miles from Weston. You would pay for the 23 extra miles totaling to $23.
If your party is over 100 miles from Weston (example St. Petersburg at 100 miles - 2 hours away), your fee would be $100.
Q: Do babies and adults count for the party guest limit?
A: No, only children ages 3 and up, who plan on participating in activities and games will count.
Q: Can I tip the princess?
A: Tipping is certainly welcome, but not expected from the princess. If you feel the performance was over the top and would like to show your gratitude, then you can discreetly hand her tip to her royal attendant or ask to have an invoice sent to you at the end of the party.
Q: Do I need to supervise the party?
A: Yes! We want to make this party a magical day for everyone. Though our performers are great with children, they cannot be held responsible for any disruptions. If you notice a child is not cooperating with the activities, we ask that the child be taken aside by a parent. Some children can be a bit star struck when they meet a princess and may need a parent around to boost their confidence.
Q: What do I need to provide?
A: Our princess and their royal attendant will bring all game items and craft supplies needed for an amazing party! The only things that we ask for is a designated spacious area to play games, a table for crafts, and a chair for the princess to use during story time.
Q: What is your cancellation policy?
A: Stuff happens! We get it! Sometimes events are cancelled or rescheduled. We are happy to help you reschedule your party to another date. However, we cannot guarantee full availability of dates or characters due to other parties. If you decide to cancel your party with Little Glass Slipper altogether then you will forfeit your deposit as they are nonrefundable.